We're Getting Mutants in the MCU - The Loop
Play Sound
Miiverse is a gaming social network that has been in existence since November 18th, 2012 (the same day as the Wii U launched in the United States.)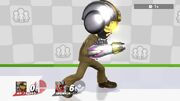 Release Dates
November 18th, 2012 (Wii U)
April 24th, 2013 (Web) (All regions)
December 10th, 2013 (3DS) (All regions)
Profile
A Miiverse profile features your Miis, Nintendo Network ID, Posts, Friends (shows 0 if you do not have a Wii U,) Following & Followers, Play Journal Entries, Screenshot Ablum, a Profile Comment, Country, Birthday, Game Experience, Systems Owned, Favorite Game Genres, Favorite Communities, Recent Play Journal Entries, Recent Drawings, Discussions, & Recent Saved Screenshots.
Activity Feed
Main Article: Activity Feed
The Activity Feed is a place where you can stay active to see what your friends & following Posts & Yeahs.
Communities
Main Article: Communities
Communities are the places where you can find the place to talk about your games & even E3 etc. You can even make your own MK8 communities.
Notifications
Main Article: Notifications
Notifications is what keeps you up to date when somebody comments on their post, yeahs your post or comment, & whenever you receive an Admin notification.
Messages (Wii U only)
Main Article: Messages
Messages let you have private conversations with your friends.
Trivia
Miiverse is Nintendo's 1st attempt at a social network.
The web version of Miiverse has the most supported amount of devices being able to support smartphones (no actual application exists,) PC, and tablets etc. The 2nd being the 3DS with 5 different 3DS systems being the Nintendo 3DS, Nintendo 3DS XL, Nintendo 2DS, New Nintendo 3DS, & the New Nintendo 3DS XL.
The Wii U version of Miiverse is the only version to support friending & private messaging whatsoever.
The 3DS version of Miiverse is the slowest of all versions being majorly behind both the Wii U & Web version of Miiverse.
The Nintendo 3DS version of Miiverse came with a system update.
For whatever reason the web version of Miiverse is the only version of Miiverse to lack the ability to block users since launch.
It is also the only version that does not let you get unbanned after your ban expires unless if you own a console banned Wii U or 3DS which will not let you access Miiverse as you will get an error code.